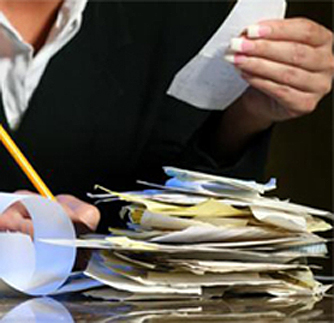 Our staff of qualified bookkeepers are fully trained in QuickBooks® and are supervised by an Advanced Certified QuickBooks® ProAdvisor. We pride ourselves in being efficient, detail-oriented, and conscientious. We take our responsibility for your books very seriously.
What you gain from hiring our Bookkeepers
Freedom from the drudgery of accounting data entry
Peace of mind that your records are complete and accurate
Up-to-date financial records that give you meaningful reports to manage your business
More time to run your business, less time on administrative work
What do our Bookkeepers do?
Download bank and credit card data into QuickBooks® and verify that entries are properly categorized
Reconcile monthly bank and credit card statements to QuickBooks® data
Prepare Journal Entries to properly classify payroll expenses and liabilities
Enter bills from suppliers; prepare bill payments for management review and signature
Run monthly financial reports for management review
Ensure your financial records are in good order to make best use of your CPA's time
As much or as little record keeping as you need
Intuit, QuickBooks, and QuickBooks ProAdvisor are registered trademarks of Intuit Inc. Used with permission under the QuickBooks ProAdvisor Agreement.
Client and Contact Management:
Ed is great! He walked me right through from stage one until I was off and running. I'm happy with how SMB Partners is handling my bookkeeping.
Some of the things that I most appreciate about SMB Partners as my bookkeeper and for Virtual Assistance are that they work with me, guide me, and are very supportive.
They also provide services that give my company a more pronounced market presence. These are some of the reasons why I use and recommend SMB Partners.